Meet Your Community Futures Entre-Corp Team
Our team of dedicated small business specialists really care about your goals and would love to hear about your plans. Meet our team of business advisors, proudly located in Medicine Hat. They're here and ready to help you.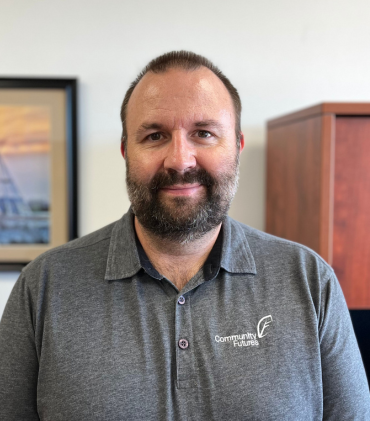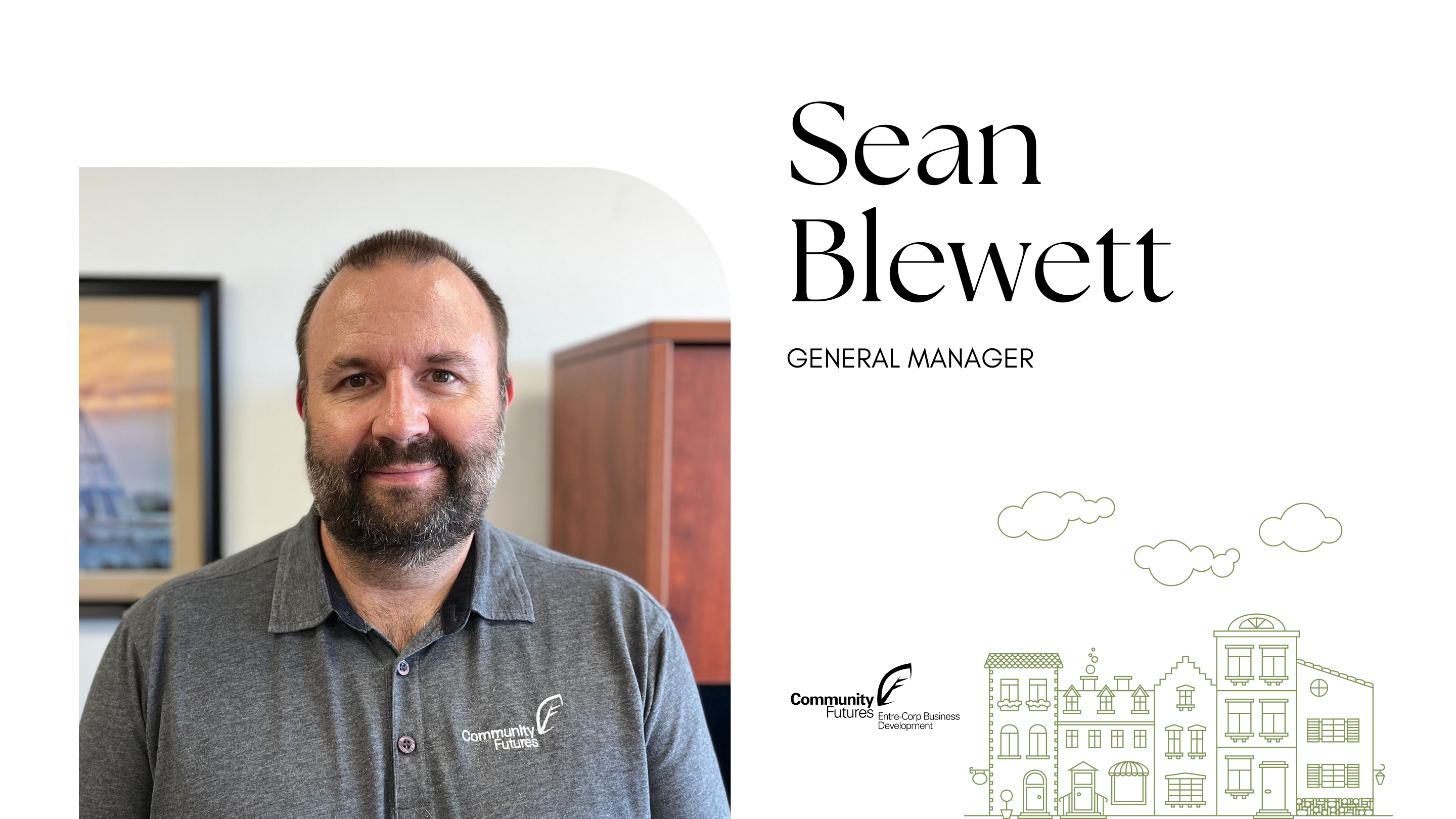 ---
Celebrating 15 years as General Manager of Community Futures Entre-Corp in 2022, Sean Blewett reminisces on proud moments and impactful programs, while looking brightly towards the future with a focus on collaboration.
He grew up and graduated with his bachelor in business in Australia, and then moved to downtown Sydney to work in the IT financial industry. He gained immense experience and knowledge that he would bring with him during his move to Medicine Hat in the mid-2000s.
He settled into Community Future Entre-Corp's office space on fourth street in downtown Medicine Hat in 2007 and would spend years working with small businesses in the city, and eventually the region.
"Community Futures is often the first support that helps some owners realize they can do it and their project can move forward. I'm constantly running into past clients, and when they tell me their story and the successes they've had, it feels amazing to have been a part of that journey," says Blewett.
One aspect of Blewett's role is identifying what's changing from an environmental standpoint and how it impacts businesses. Then, he designs and implements programs that support businesses as those transitions come down the road.
From the creation of the Regional Innovation Network, to the work done over the pandemic, and becoming the General Manager for Community Futures Chinook, Blewett is proud to work with a team that responds in a huge and impactful way that benefits the business community long-term.
"The best part of my day is the team. It's amazing to have a group of people who have different skills and when put together perform so well. They're all passionate people with diverse talents, and it's a pleasure coming to work everyday," says the general manager.
From adults to youth, Community Futures supports all age groups and aspiring business owners. The Rotary Alberta Entrepreneurship Youth Camp invites 13-15 year olds to a one week camp where they'll learn the basics of business. They've put hundreds of youth through the program over 25 years. Blewett says some have gone to do amazing things, creating solid businesses and being leaders in their community.
"It's been a worthwhile project. When you see the youth grow and develop, it makes you feel proud that you can be involved in their life's development even in a small way," he says.
Blewett's learned it's the team around you that is most important. From friends and family, to co-workers, and people in the community.
"The biggest thing is developing your team around you. It's not just the people you work with. It's also community partners and leaders and people who have the same outcomes and desires you wish to have. I'm a huge believer in collaboration and that the more we're rowing in the same direction, the more we're partnering, the more we can achieve together."
---
Learn more about the Community Futures Entre-Corp team here.
Read Sean's Story...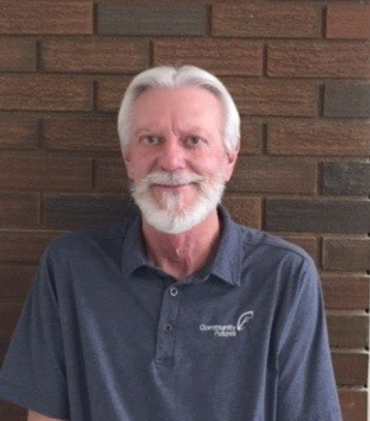 ---
Greg Scott started working in banking as a young adult, and he quickly felt the contentment of helping people pursue their passions with a confident plan. He moved to Medicine Hat from Moose Jaw in 1990 to work for the Credit Union, and seven years later, he was asked to work for Community Futures Entre-Corp by the General Manager and the Chairman of the board.
Over 25 years later, along with a promotion to senior business analyst, Greg has had a hand in disbursing $31M in loans to small businesses within our region.
But it isn't the money lent and granted that has him continuing to do what he does. It's seeing the possibility for those who, day after day, work towards something they've carefully and thoughtfully planned for themselves.
"I like everything about my position with Community Futures — the client, and co-worker, interactions and generally assisting people. We still try to figure out ways to help people, and we get to treat them like people. We're good at speaking on a number of different levels and staying honest," says Greg.
Along with supporting aspiring or current adult entrepreneurs, Greg has been a part of the Rotary Alberta Entrepreneurship Youth Camp since his start with Community Futures in 1997.
The one-week camp immerses youth into the world of business ownership — how to plan from the beginning, take out loans, create the product, and sell the product for a profit to then pay back the loan and take home some money. Greg says the heightened confidence and skills the campers obtain, in the short seven-day period, is noticed and celebrated.
"They work hard, and working with the kids and seeing them grow from day one to day seven, seeing how happy they are when they pull it all together and make a few bucks at the end of the week, the whole experience is good," says Greg.
The camp has grown immensely from year one, to where there is now a waiting list every year, and campers who attended 20 years ago still return to volunteer.
Purpose is what brings Greg to work everyday, and the welcoming work environment he's been lucky to experience for 25 years. There are many success stories, and as Greg scrolls the list on his computer while being interviewed, he can't help but share those stories in the moment with pure happiness for the owners he speaks about.
"I've been lending and dealing with people for years — it's helping people, that's what I like. We ask for the whole story, and we help to set them up for success," says Greg.
---
Learn more about the Community Futures Entre-Corp team here.
Read Greg's Story...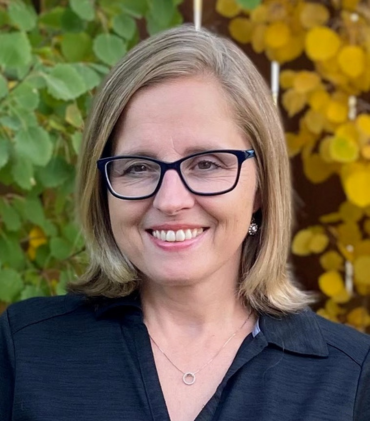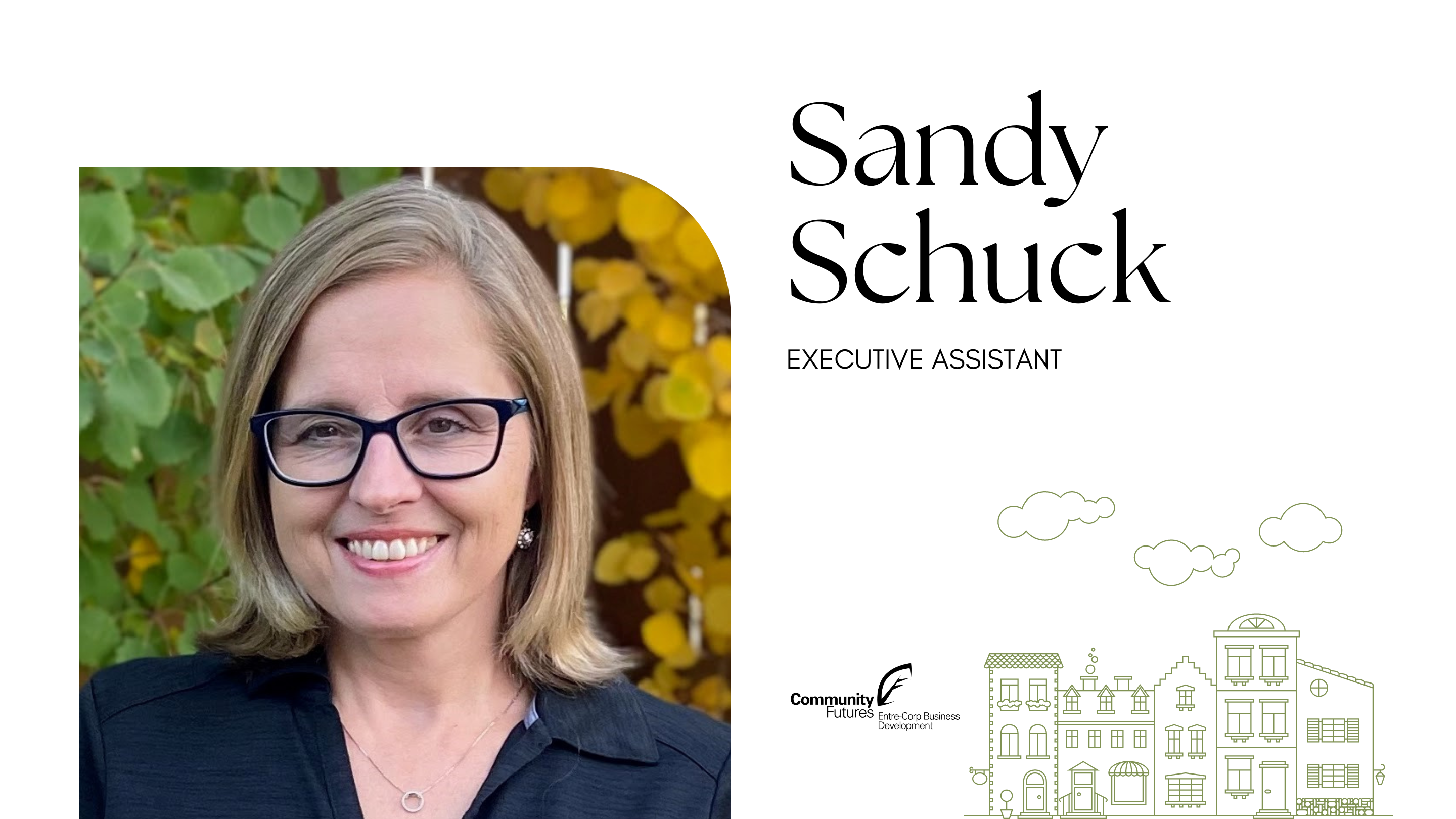 ---
Five years ago, Sandy Schuck accepted a job position with Community Futures Entre-Corp, and eventually Community Futures Chinook and Tourism Medicine Hat, and now finds herself completely content with her substantial and challenging workload.
Whether it's balancing numbers and paperwork for Community Futures Chinook, Community Futures Entre-Corp or Tourism Medicine Hat, it gives Schuck a wealth of fulfillment that her role plays a part in all three organizations.
"I like helping my coworkers and being a support to them. If anyone needs something, I try to get on it right away; it feels good to close the loop on something," she says.
Accounting is what she's known her whole career and she's been naturally drawn to the profession since day one, "I like balancing and figuring, and it doesn't matter what sector you work in, you always have accounting. Especially with this job, I do all aspects of accounting, and I love that variety."
From starting in the oil and gas industry, and then working with a non-for-profit that has a common goal of supporting the success of local and small business, Schuck has realized a new admiration and recognition for entrepreneurs in all industries.
"I've never worked with entrepreneurs before, and it's been an eye-opener for me. I have a tremendous amount of respect for entrepreneurs. Seeing it first hand is pretty incredible. It's not a nine-to-five job. It's their passion — they're on 24/7. I like learning about that," says Schuck.
When she started in the accounting industry right out of high school, she quickly felt her intrinsic aptitude for it. The challenge, constant workflow, and variety of tasks keeps her on her toes with something new everyday.
Before Schuck and her family moved to Medicine Hat in April 2017, they would drive through often from Calgary to Saskatchewan to visit family. There was an encompassing feel the city gave off that attached to her more and more with every drive through on the Trans-Canada Highway.
She and her husband would talk about moving, and when her husband was approved for a work transfer, they packed their bags and permanently stopped in Medicine Hat the next time they drove on the Trans-Canada Highway.
"We were camping at Gas City Campground, and I had an interview with Community Futures after applying a few months after moving. We were walking our dog, and we ran into a lady. She made conversation. I told her I had a job interview. It turned out the woman used to work there, and she loved it. I thought that was pretty funny," says Schuck.
And like that woman, Schuck feels fortunate working in an office with a supportive and welcoming team, while having a workload that fuels her list of what she needs to be professionally fulfilled.
"I really like what I'm doing, and I don't see myself doing anything else."
---
Learn more about the Community Futures Entre-Corp team here.
Read Sandy's Story...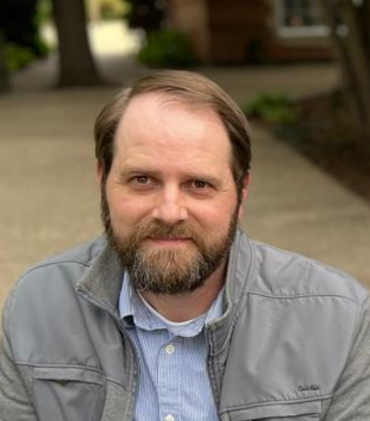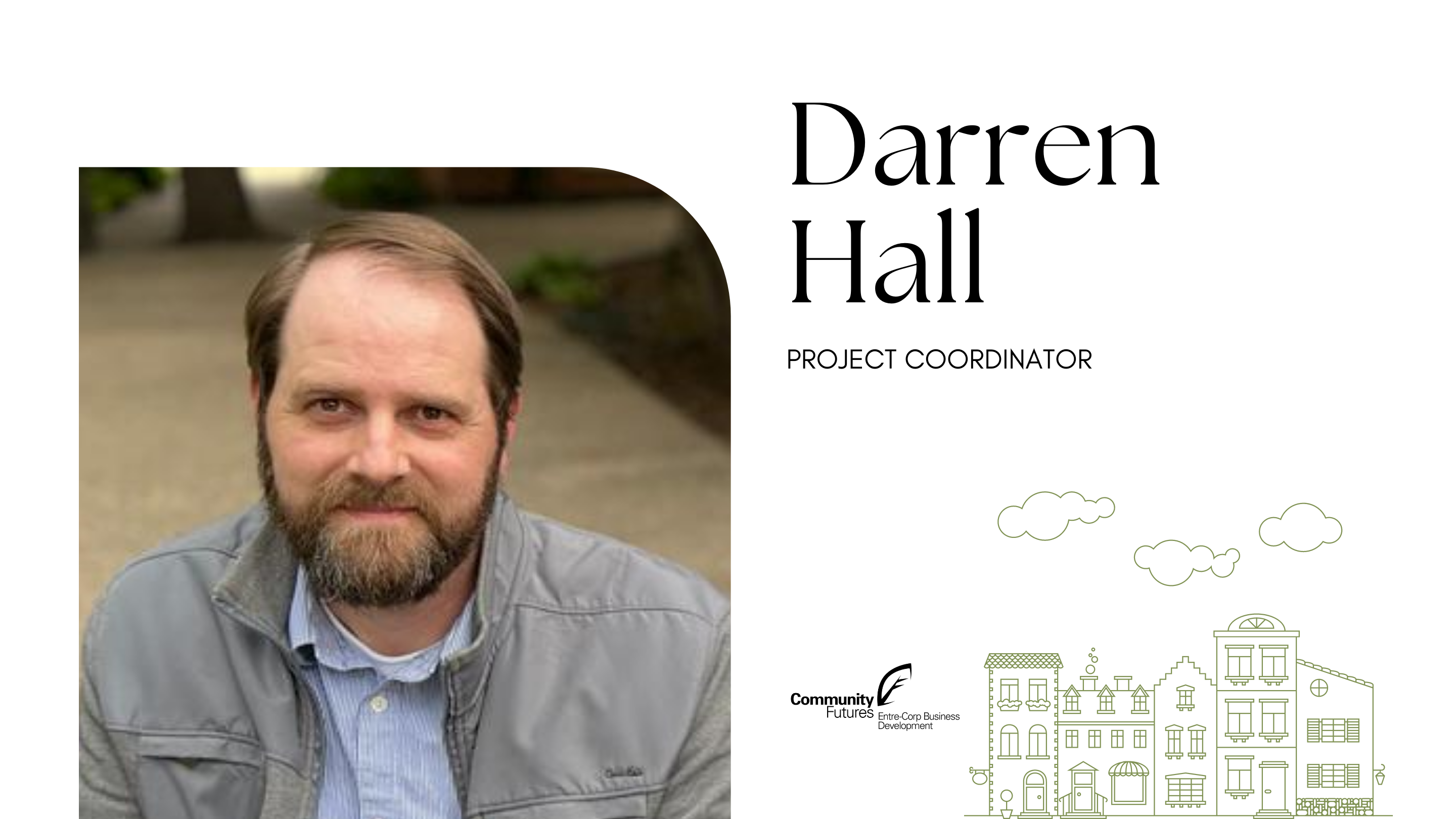 ---
Darren Hall sees entrepreneurship as a strong industry in Alberta and the impactful work Community Futures Entre-Corp has contributed to the business community over the last 30 years.
During his time with the organization in his role as project coordinator, Hall works towards the common goal of enhancing the business community with various business owners and organizations, through business advisory, program development, and loan processes.
"Each entrepreneur may be in a different market, but if you consider them all an industry, it is a huge industry here. Listening to clients' ideas and connecting them with relevant and valuable resources to help them realize their dream or goal of starting a business is really neat."
Hall's career began when he graduated from the Medicine Hat College with his business admin diploma with a major in marketing, and then with a bachelor in management, major in marketing, at the University of Lethbridge. He has experience in management, sales and marketing, data analysis, and practice improvement.
He sees the strong interest in entrepreneurship in the area with people utilizing their experiences and skills to create something new, and supporting them along the way is what he enjoys most about his role.
"There is doubt sometimes in a business owners' mind. I feel here we go above and beyond to lend and support people financially and help them look past those challenges and make an informed decision on how to proceed with this venture," says Hall.
He believes there is a larger opportunity for business owners when they reach out to Community Futures Entre-Corp, because they may leave with more information and knowledge then they originally intended to find.
"Running many programs out of the office, there is a lot of crossover with clients. After they've received support from one thing, we can easily refer them to other programs we offer that would be of benefit to their business."
---
Learn more about the Community Futures Entre-Corp team here.
Read Darren's Story...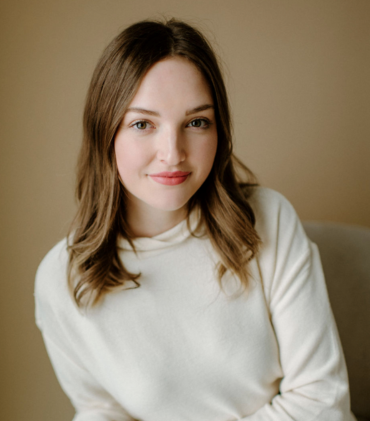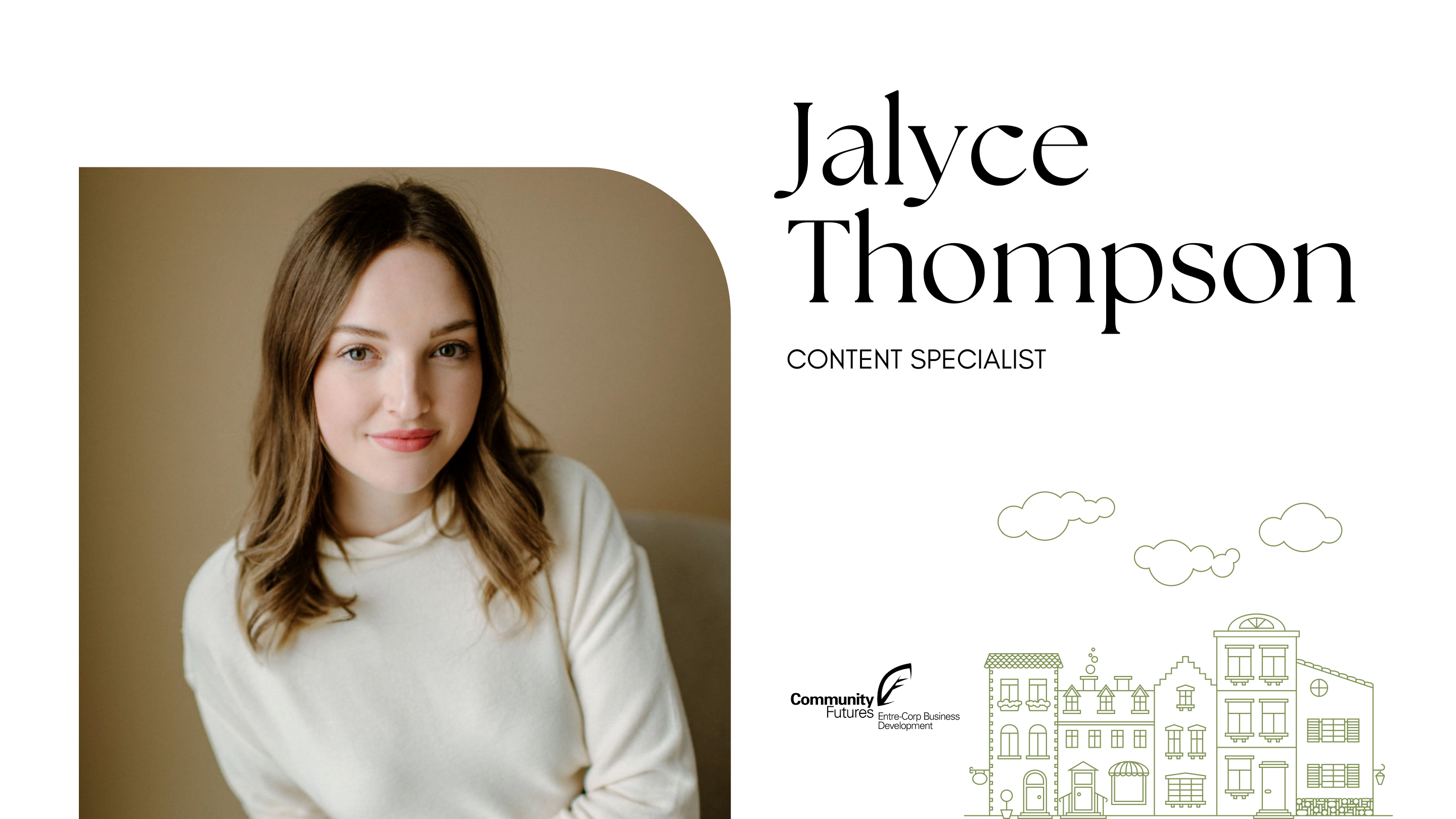 ---
She lived in Vancouver, British Columbia and attended Canadian Tourism College when one of Jalyce Thompson's instructors told her she had a skill for writing.
It reminded her of a passion she had for a lifetime, but was distracted from during other exciting life events and experiences. As Thompson pondered the idea of becoming a writer, she came across the journalism program at Southern Alberta Institute of Technology, and after a few months she'd been accepted and moved to Calgary, Alberta to start the program in 2019.
"I really didn't realize it until I started my first day, how much I enjoy telling stories about people around me. I've always been fascinated at the fact that we're all here in the same place with different journeys. When seeing someone who catches my attention, I always say, 'I wonder what their story is'," says Thompson.
Tourism writing was the first inspiration in Thompson's mind when she signed onto the journalism program, but as she wrote more and more about business owners in her program, she'd recognized a new love for writing.
"That is what I love most about my position with Community Futures Entre-Corp, is hearing the passion business owners have in our community, and sharing their words and journeys with those who are eager to read along," says Thompson. "The process of interviewing and writing gives me energy and a new sense of excitement, and I view so many of our local businesses differently in such a positive way."
In 2020, classes moved online, and Thompson knew she'd have more time on her hands. She designed the magazine, YXH Magazine, that started as a mental health awareness publication, but quickly transformed to a full-fledged local business feature publication.
"I've always had this perspective that the core of a business is the person who owns it. It's important to know who we're supporting. For so long, an image or brand was the face of the business, but I've always been interested in knowing who the person is behind the brand, and now sharing their stories with readers," says Thompson.
She says Community Futures, no matter what city it's in, is extremely supportive of local businesses and has a goal to ensure local business owners find success in their passion. To work with people who only want to see others succeed is inspiring and brings hope to a community.
"I am currently writing all of the feature stories of everyone in the office, and it's so interesting to learn about how everyone made their way here, those who work with Community Futures, and business owners who reach out. Writing all these reminds me of those movies where there's over a handful of storylines happening at once, and at the end they all meet. That's what it feels like to write and share these stories through Community Futures, which is pretty cool," says Thompson.
---
Learn more about the Community Futures Entre-Corp team here.
Read Jalyce's Story...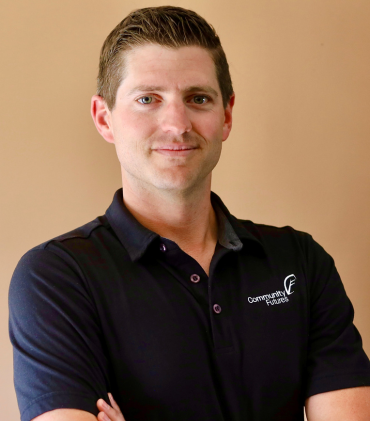 JD Gaetan
Human Resource Specialist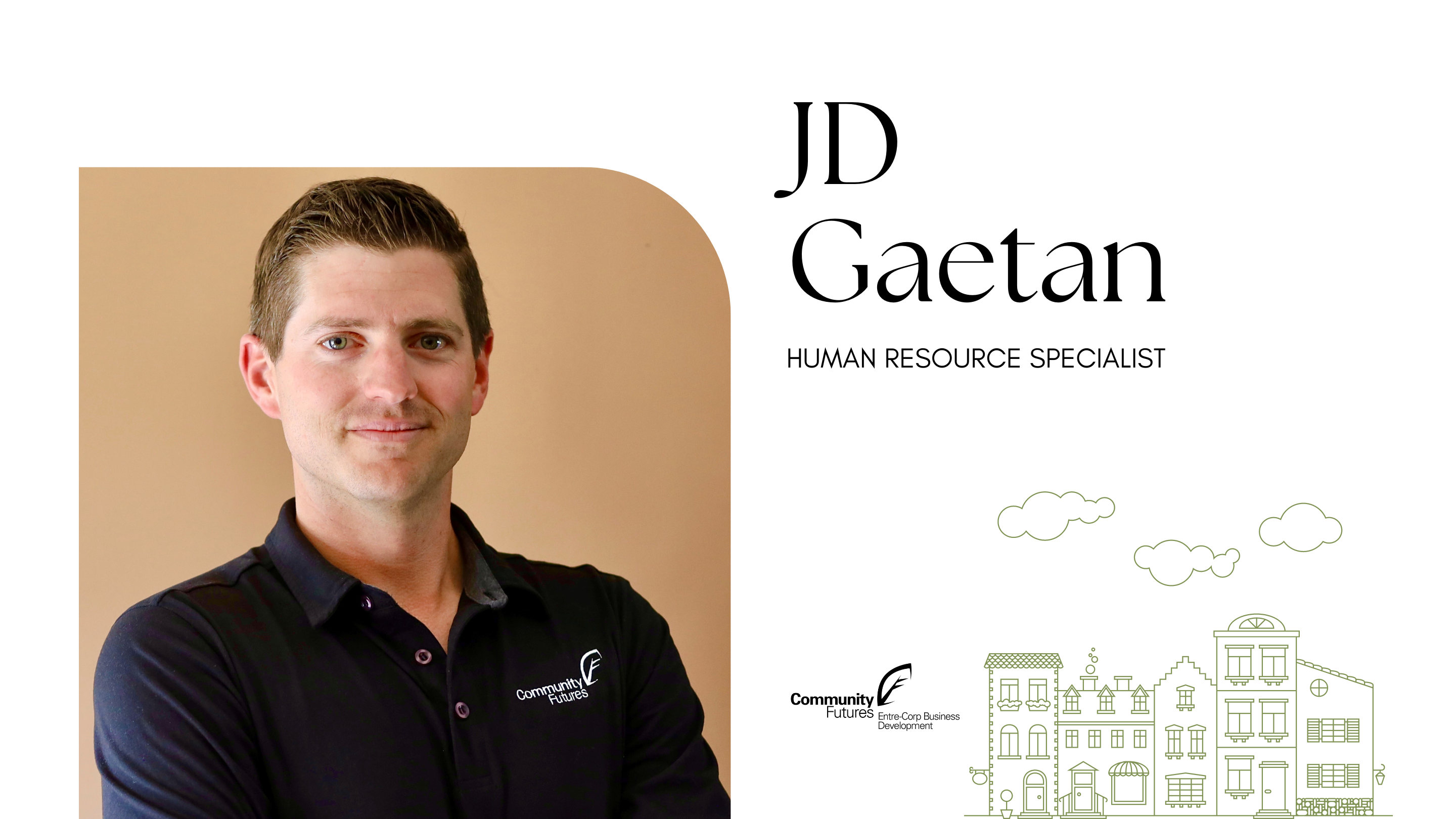 ---
JD Gaetan worked with Community Futures Entre-Corp 10 years ago, coordinating youth entrepreneurship programs, including the Youth Entrepreneurship Camp. With a business degree and a double major in marketing and human resources (HR), he then moved into an HR role with a greenhouse cooperative company that distributed throughout western Canada and, during peak seasons, had over 200 employees.
When the role of Human Resource Specialist with Community Futures Entre-Corp presented itself in 2023, Gaetan was invited onto the team. He provides Entre-Corp clients with human resource advice and support, whether it's best practices for building a job description, how to attract staff, how to retain staff, how to educate staff through training, and offering other collaborative training opportunities.
"Entre-Corp was my first job out of University, and coming from an entrepreneurial family and working with my family business, it made sense to work with an organization focused on guiding businesses and encouraging entrepreneurship," says Gaetan.
There is a lot to learn about HR. It's always changing, and Gaetan wants business owners to know they're not alone. He is here to help keep entrepreneurs updated with the latest legislative changes. And, in terms of retaining and attracting staff, as hiring becomes more difficult for owners, Gaetan can teach them how to properly and effectively promote their open positions. He's a problem solver with education and experience, and he's eager to support local entrepreneurs.
"I came from an entrepreneurial family and have a lot of respect for entrepreneurs. I'm looking forward to working with all the different small business owners. They are vital to our community," says Gaetan. "HR is a people's position, and I like working with people."
Gaetan is originally from Nova Scotia. When he visited Medicine Hat almost 15 years ago in the summer, he stayed. He really enjoyed the city, and it's become his home — it's where he raises his two daughters, and where he can fulfill his passion and connect with entrepreneurs in Medicine Hat to strengthen their business foundation.
---
Learn more about the Community Futures Entre-Corp team here.
Read JD's Story...
Tracy Stroud
APEX Regional Innovation Network Manager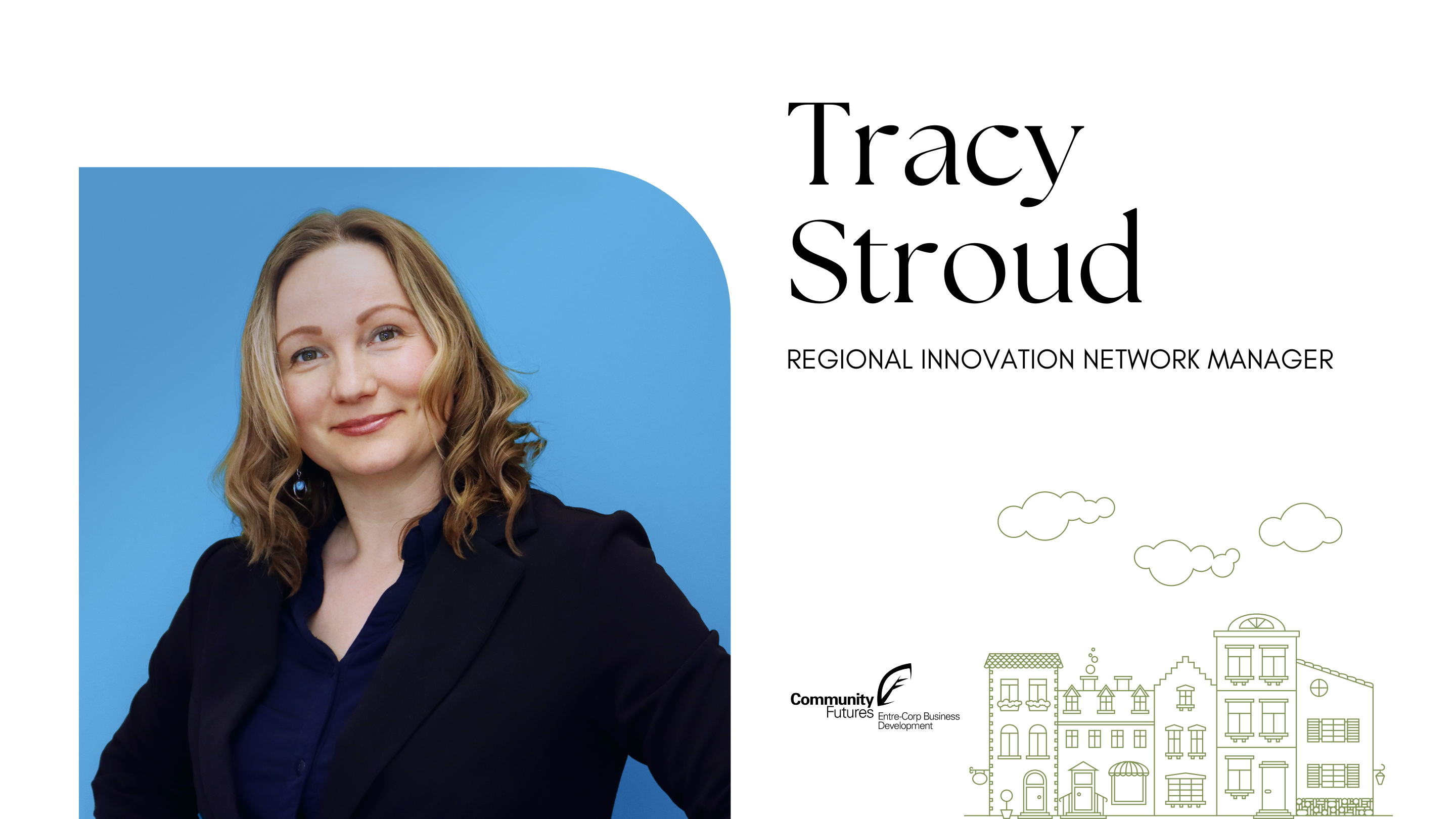 ---
Tracy Stroud has worn many hats throughout the years in economic development, and with every different viewpoint she's supported, she's always believed in motivated and determined business owners, workers, and innovators since she moved to Medicine Hat in 2008.
"I love helping companies grow, because they create jobs and a sense of purpose for a lot of people — they help create a sense of identity with the work they do and the value they're adding," says Stroud. "A lot of these business owners put their heart and soul into these companies. I want to support that. I grew up with entrepreneurial parents. I saw the day-to-day struggle to make a profit. I thought, growing up, there has to be an easier way,"
Currently, as the Regional Innovation Network Manager, Southeast Alberta, for APEX Alberta, Stroud constantly creates, collaborates with, and finds resources for tech-based innovation business owners who reach out to learn and grow in their industry.
"Knowing there are a number of accessible financial and educational supports that are free for companies, I always want to share and make it easier for people to find and receive that help. Albertans are very entrepreneurial, and between our partners - Alberta Innovates, Medicine Hat College and Community Futures Entre-Corp/Chinook, we have support for every business owner from start to selling," says Stroud.
Stroud graduated with her hotel and resort management degree at University of Calgary, and then did financial appraisals for hotels across Canada while Vancouver-based, before moving to Southeast Alberta.
Once in Medicine Hat, she worked with the Economic Development Alliance of Southeast Alberta for four years, helping rural business owners access support across the region, as well as coordinating both the energy and agriculture stakeholder committees.
"The experience and knowledge I gained from business owners and professionals in renewables, oil and gas, and agriculture was priceless," says Stroud. "I am thankful to this day for everything they taught me, and I wouldn't be where I am now without them."
After that role, Stroud worked with companies with hiring needs as well as unemployed individuals in her position with Alberta Works.
"It was a very eye-opening experience for me, because I saw how many people, of all ages, in Southeast Alberta struggled with the different barriers they faced during employment. We would hold hiring events and that was amazing. Seeing people with barriers find employment was the greatest feeling."
For six years after, she worked at Medicine Hat College where one of her roles was to lead Innovation and the Entrepreneur Development Centre (EDC). Along with re-energizing the EDC, Stroud and her team organized the installation of the first solar canopy and charging stations at a post-secondary school in Alberta at the time, and Stroud was the driving force in receiving the funding for the project.
"I loved my early days with the Entrepreneur Development Centre, and it's great to see many of those student businesses still thriving today. At that point, there was a lot of rebuilding, but there were a lot of firsts celebrated too."
For over a year now, Stroud has worked with APEX Alberta and is proud to announce they've doubled their first year of funding from Alberta Innovates, which was received to do the flight plan on how to create a tech-innovation hub for the Remotely Piloted Aircraft Systems sector across Alberta.
"We have assets in this region that are really strong, and they continue to make us a leader in the area. Having the Foremost UAS Test Range, as well as Defense Research and Development Canada, Canadian Forces, and the British Army Training Unit Suffield (BATUS) in one place creates great opportunities for innovation and is key to why companies like Qinetiq and Atlantis are here," says Stroud. "I know more activity can come from this, and I really feel aerospace and defense is a big opportunity for us and will be for years to come."
Remotely Piloted Aircraft Systems are growing fast across Alberta, and the region has a lot of assets to support this industry. Growing, rebuilding, strengthening, and achieving are Stroud's most prominent characteristics, and she's determined to support this project and all other tech and innovation business owners to the finish line.
"We shouldn't leave people behind; we should raise everybody up in our communities. There is a lot of support out there, and with our partners we have a broad network. Reach out and ask questions. If it seems overwhelming, we're here to help navigate."
---
Learn more about the Community Futures Entre-Corp team here.
Read Tracy's Story...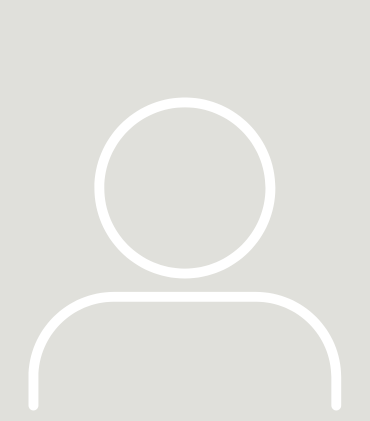 Lisa Galecki
APEX Digital Media & Marketing Specialist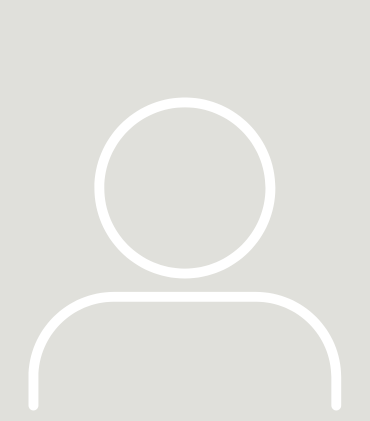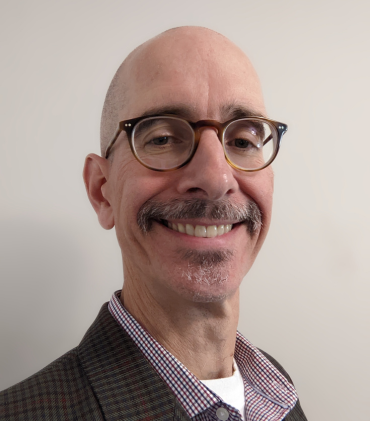 Roger Haessal
APEX Advisor - RPAS Strategy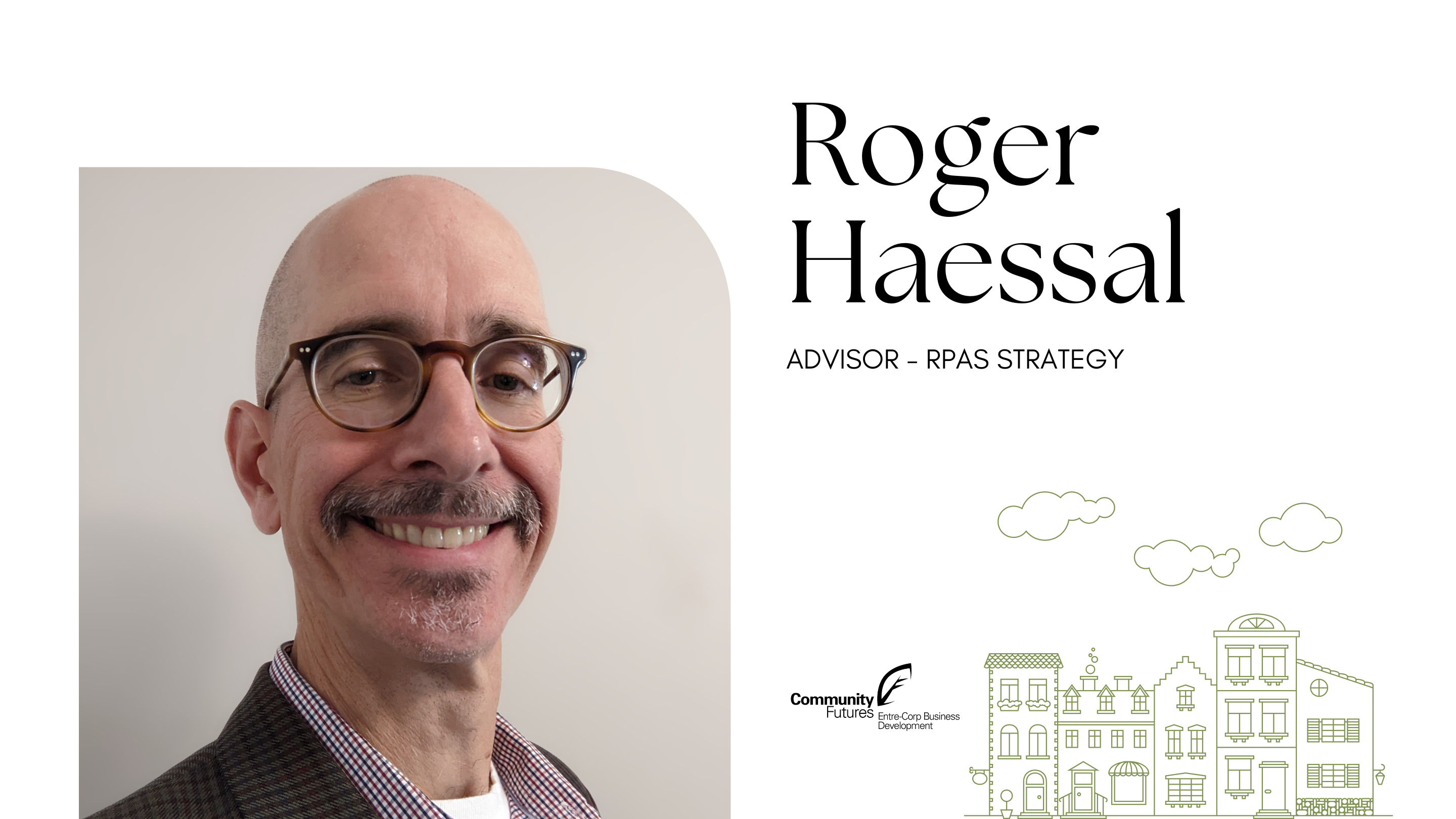 ---
Roger Haessel studied and graduated with his Bachelor of Commerce Degree from Queen's University in Kingston, Ontario. He worked in banking for several years in Toronto before completing his MBA at the University of North Carolina at Chapel Hill.
While living in the U.S., he worked in various roles with both Sabre Corporation, a travel technology company, and American Express.
By 2007, it was time to return to the place that felt most like home in Alberta, Canada, where he joined the Community Futures program. After a short stint as a Business Analyst in Pincher Creek, Roger became a Rural Diversification Project Officer in Cochrane.
"It was here that I managed the Rural Diversification Initiative grant program funded through what is now known as PrairiesCan, to support CF offices in leading rural economic development projects. One of the projects we were able to fund enabled Community Futures Entre-Corp to develop a technology strategy for Southeast Alberta," says Haessel.
In 2011, building on its regional technology strategy, Community Futures Entre-Corp was selected by Alberta Innovates to lead the Regional Innovation Network (RIN) for Southeast Alberta, and Haessel was recruited to manage the RIN now known as APEX Alberta.
"This was the project I helped get off the ground and fund through the Rural Diversification Initiative grant program. It was a great opportunity, so I accepted the position and moved to Medicine Hat," says Haessel.
The focus of Community Futures Entre-Corp and APEX Alberta is to help as many rural and tech-innovative entrepreneurs and small businesses as possible, "It's so fulfilling to help an entrepreneur get their business off the ground, grow, or help them tear down barriers and find funding for their idea or initiative."
During this time, Haessel also worked with the Canadian Centre for Unmanned Vehicle Systems (CCUVS) as their executive director in Medicine Hat. But, in 2015 the organization decided to transition its assets to the Village of Foremost, to establish the Foremost UAS Test Range.
For the next few years, he volunteered overseas and took on various management consulting projects. In 2022, Haessel was recruited once again to join APEX Alberta in striving to develop a roadmap for Remotely Piloted Aircraft Systems ("RPAS" also commonly known as drones) and help grow the industry across the province.
"The industry is at a critical point, and it feels good to be a part of it. Not only is the RPAS industry growing quickly in terms of manufacturing and flying, but Alberta has significant industries that can benefit from the application of RPAS. We have a large commercial footprint in agriculture, forestry, mining, oil and gas — there are a lot of areas where Alberta can be a prime beneficiary of this technology."
Along with their focus on the province's RPAS industry, the team at APEX Alberta also looks for cutting edge opportunities that keep Southeast Alberta at the forefront of what technology is out there and then finding out where the business opportunity is with it.
"The team is very passionate about what they do, and there is a strong desire to facilitate regional economic growth. Looking for opportunities and seeking out solutions to the many challenges faced by small businesses, as a means to grow the economy, is really something great to be a part of," says Haessel.
Haessel says the industry is ready to take flight. People now understand how transformational the technology can be. Regulations have progressed significantly. Education has grown significantly. The development is happening and being implemented now. The technology is a lot more advanced, and the impacts are more noticeable.
"RPAS technology is going to keep being developed and the applications are going to keep expanding. There are a lot of assets here in Alberta that position us very strongly to lead this industry," says Haessel. "We're learning and hopefully making a difference for Alberta."
---
Learn more about the Community Futures Entre-Corp team here.
Read Roger's Story...
Let's see what we can do for your business
Give us a call, send us an email, or drop in for a chat.