Perfecting Your Pitch - November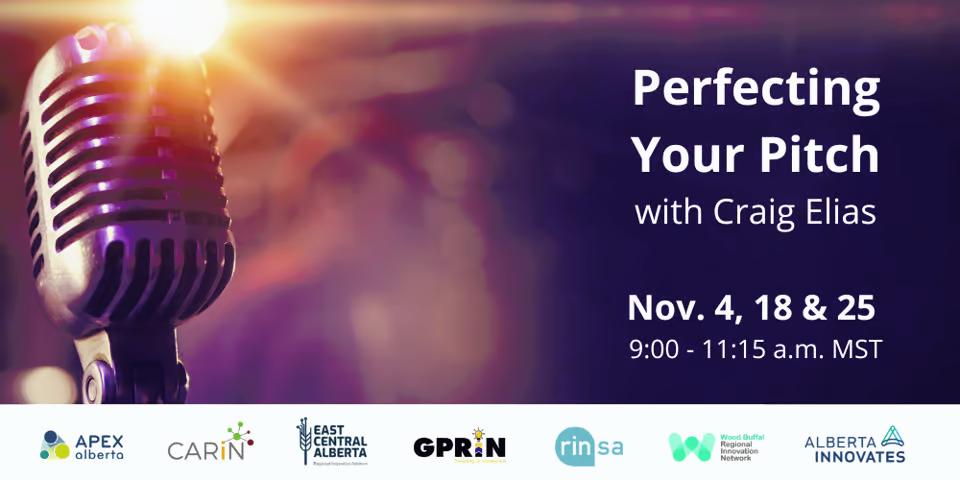 ​Designed for aspiring entrepreneurs and early-stage business owners, this series shares the secrets to getting customers, investors, and mentors. The series will also cover some of the best ways to access Alberta's business incubators and accelerators.
​Each week's session will feature fresh content and the opportunity to practice your pitch and get feedback from the facilitator and the other participants.
​These sessions are brought to you by Alberta Innovates and Alberta's six rural Regional Innovation Networks:
​They are facilitated by the winner of a $1,000,000 prize in a global Billion Dollar Idea Pitch Competition, who helped one startup win two different $100,000 pitch competitions in less than 24 hours and was twice chosen as Canada's #1 sales expert (#15 in the world) by LinkedIn.
​Week #1 - Five Ways to Attract Investors and Mentors
​Want to know how to capitalize on the five things savvy investors and mentors care about the most?
​Then join us for this informative session where Craig Elias shares how to help potential investors/mentors understand that your idea/business has what it takes, and for them to be more interested in your business.
​Week #2 - Perfecting Your Five-minute Pitch
​Want to craft a two to five-minute pitch that captures and keeps your audience's attention and makes them want to learn more about you and your business?
​Then join us for this fast-paced session where Craig Elias shares the critical components of a successful pitch, different pitch formats, how to differentiate yourself from the competition and how to avoid the two mistakes that can kill the interest you create.
​Week #3 – Creating A Compelling Elevator Pitch
​Want to know how to create interest in your product or service in the shortest amount of time possible?
​Then join us for the final session in the series, where you'll learn the power of seven-word elevator pitches and how not telling people what you sell right away can be the secret to getting customers, mentors, investors and employees.
---
​About the Speaker
​Craig Elias is an award-winning entrepreneur, educator, sales expert, author, passionate startup advisor, and a gifted pitch coach that helped the female founder of an early-stage company win two different $100,000 pitch competitions in less than 24 hours. Craig's first startup went from initial launch to being funded by a Tier 1 US-based Venture Capitalist and was twice named by Dow Jones as one of the 50 most promising companies in North America in less than 24 months after launching. In both 2018 and 2019, Craig was chosen by LinkedIn as Canada's #1 B2B Sales Expert (#15 globally). He has 10,000+ unsolicited endorsements on LinkedIn - with over 1,000 of them for his favourite sales topic, lead generation.
​He is a Startup Mentor for the Alchemist Accelerator in San Francisco, on an advisory board for South by Southwest (SXSW) in Austin, Texas, a mentor for Techstars in Toronto and has been a National Growth Advisor for Goldman Sachs' and Babson College's 10,000 Small Business Program in Boston.
Event Information
| | |
| --- | --- |
| Event Date | November 04, 2023 - 9:00 am |
| Event End Date | November 25, 2023 - 11:15 am |
| Cut off date | November 24, 2023 |
| Capacity | Unlimited |
| Individual Price | Free |