An eager man who helps support and build a solid foundation for a community to move forward, Cypress County Councillor Richard Oster accepted the Queen Elizabeth II's Platinum Jubilee Award on Jan. 25, 2023.
His naturally welcoming and knowledgeable attributes were instrumental during his nine-year volunteer work as Vice Chair on the Community Futures Entre-Corp board. Working as both councillor and reeve for Cypress County over the last decade, his work involved problem solving and introducing constructive conversations that brought the community a sense of safety and reassurance.
"People need other people. We thrive as a community when we work together to grow and support each other, and as a councillor we can help make that happen. Being on council and volunteering with Community Futures has brought a social connection, and I've learned a lot. It's important to never stop learning," says Oster.
From advocating for council to financially contribute to playgrounds, to maintenance and upgrades for community buildings, and encouraging communication with neighbouring municipalities, Oster feels fulfilled with accomplishment when looking back on his years with council.
"When I was told about winning the award, I was speechless. You never expect it," he says. "To be recognized, of course, is always great, but you don't do it for the recognition, you do it because it needs to be done."
The Queen Elizabeth II's Platinum Jubilee Award is only a pause for celebration for Oster. With a mindset to always learn, grow, and appreciate life more every day, the congratulated moment is more inspiration to continue on with council.
"For me, life is just more fun when you stay curious. And, having a job you feel good about and volunteering makes the stuff that life throws at you a lot easier," says Oster.
Being born and raised in Medicine Hat, Oster feels fortunate to have worked with his father's excavating business, Art's Excavating, after high school graduation. The family business started in 1967, and Oster purchased it in 1982. Being an advocate for playgrounds in Cypress County, and having the excavating experience, Oster and another councillor, Alf Belyea, built a playground in Suffield. A man of his word and the actions to uphold it, he goes above and beyond to ensure the community is strongly evolving, developing, and continuing to have people feel at home.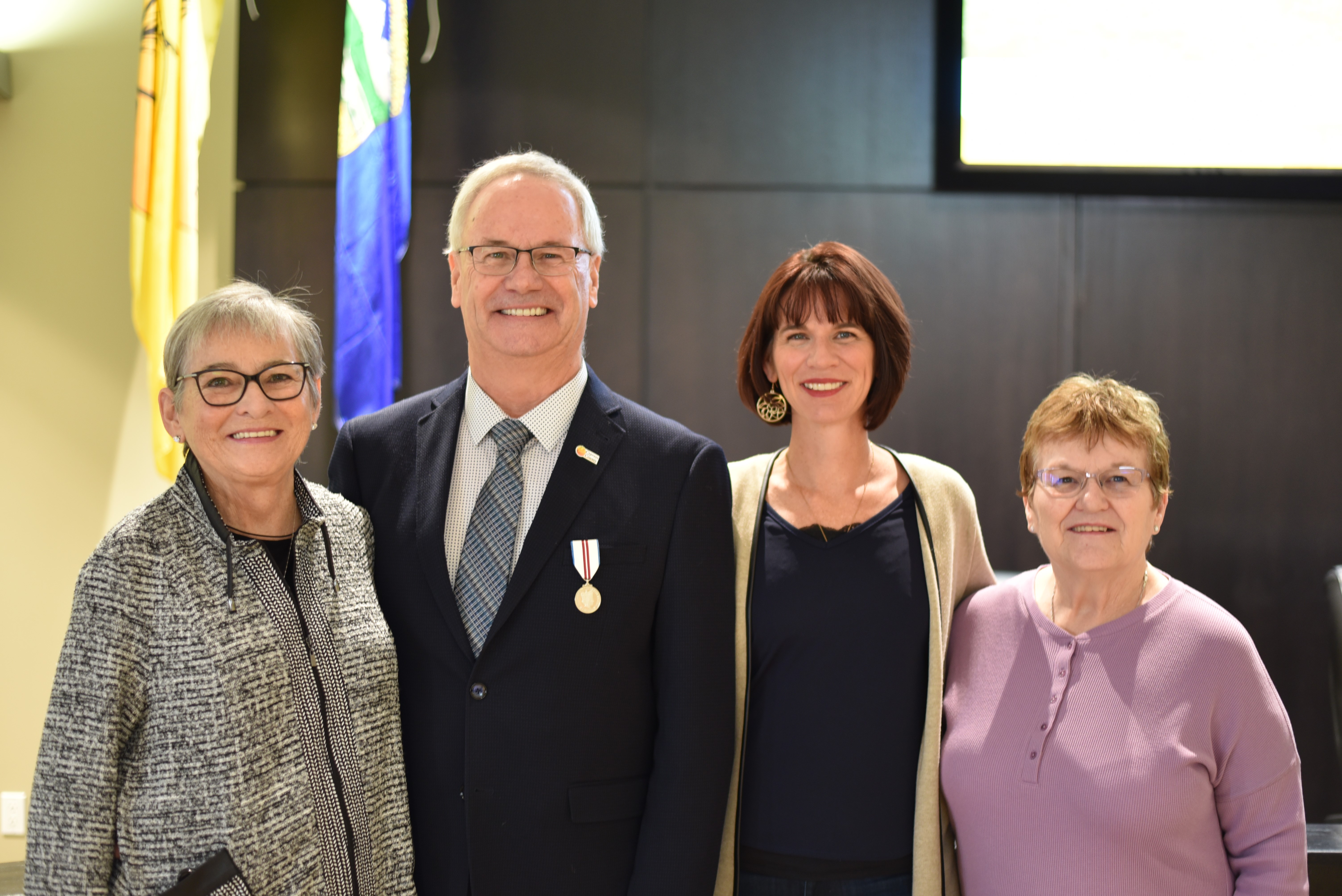 Richard Oster with his (left to right) wife Charlene, daughter, and mother.
Oster's past awards are tangible representations of how he's been a part of change and progression. While not everything is documented or awarded, only endearing words are shared when you ask those who surround him who they believe he is at the core.
"Richard has been a tremendous asset to the Community Futures Board and Cypress County. He is engaged, solution oriented, and always willing to volunteer his time. He is a true leader, a community builder, and we are grateful he is being recognized for his community service and dedication to the region, " says Blewett, who nominated Oster for the award.
While his time is spent focused on the Cypress County community, Oster has a family of two daughters, their husbands, and six grandchildren. He and his wife, Charlene, will celebrate their 50th anniversary in April 2023.
"There are lots of good people here, and it's a great place to raise a family. I was lucky to be born and raised here — I know a lot of people through work and children, and it's nice to go places and run into somebody and talk for a few minutes."
The discussions he's contributed to have moved the region forward — his eagerness to continue dialogues, connect people to one another, prioritize and support collaboration throughout the area, and see the future with a realistic but positive perspective is something to admire and foster.